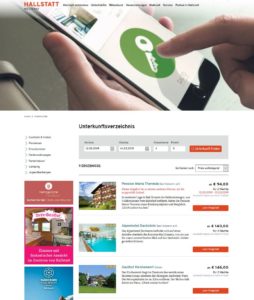 Hallstatt.net
im-salzkammergut.at
-  here you can find accommodations in every price category - hotels, guesthouses or private rooms. Perfect for the line dance event in Hallstatt! The accommodations are located directly in Hallstatt or in the surrounding towns and are easily accessible by car or train. Remember to book a room in time - as they can be booked quickly.
Hotel Seewirt Zauner
located directly at the picturesque market square of Hallstatt.  Spending your precious time in a comfortable and pleasant way. At the restaurant you will be spoiled with regional delicacies from the Salzkammergut.
Fenix Hall
This B&B  is located about 800 m from the center and 200m from Lake Hallstatt. Modern, country-style rooms offer a cozy atmosphere with mountain views. The quiet location also offers the opportunity to escape the bustle and spend cozy hours in Hallstatt. Despite everything, you can walk to the cafés, bars and market square of Hallstatt in just a few minutes.
info@fenixhall.com    phone +43 6134 20605    mobile  +43 664 252 22 20
Gasthaus Simony
The guesthouse was built in the 15th century and is located in the historic center of Hallstatt. Here you can enjoy the view of Lake Hallstatt - on the lakeside terrace you can relax. The rooms are old German and Biedermeier or furnished in regional stone pine wood and this offer a wonderful "homey" ambience.